Nail art for Christmas, Holiday, new year, valentine's day, Halloween. Some people love the holidays and really get into the spirit. They decorate their homes, clothes and even their nails.
Seasonal nail art is fun and very appropriate and many nail technicians already have ideas in mind. I would like to share you some of nail arts for Christmas party. Here Nail design ideas for Christmas and Holiday. New nail art ideas:
Nail Ornament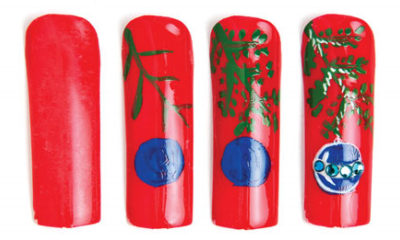 Polish the nail red.
Add a diagonal green line with three smaller lines reaching out on each side. Add a blue circle at the end of one of the small green lines.
Add green dots and teardrops to fill in the branch.
Accent the branch and the circle with white. Add four blue rhinestones in a horizontal line inside the circle.
This the Season for Bling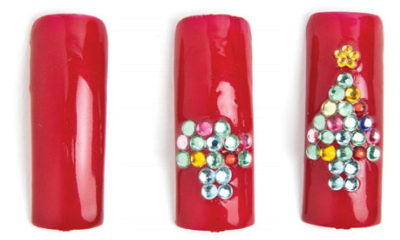 Polish the nail with two coats of red gel polish, curing after each coat.
Add four blue rhinestones in a square shape to form the base of the tree. Add two rows of five rhinestones each for the lower branches, making green (leaves) the primary color with other colors occasionally intermixed (as ornaments).
Add shorter rhinestone rows as you work to the top of the tree. Apply a yellow rhinestone flower as the "star."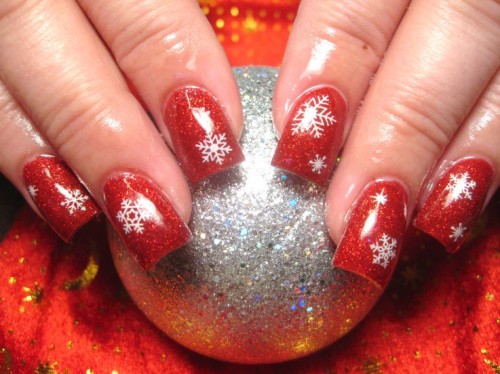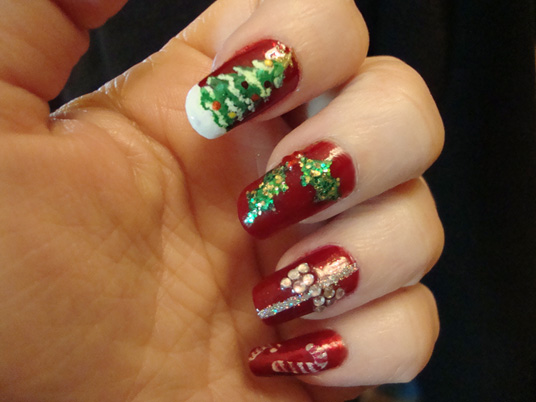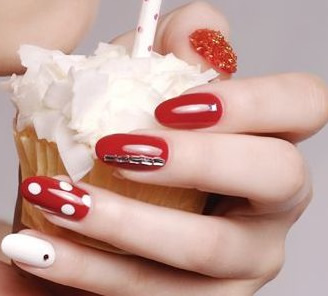 Festive red is a terrific holiday color for your clients' nails. We challenged nail artists with creating monochromatic nails, using only shades of red, to inspire you. We love the depth of shades and the creative textures (rhinestones feathers) that give these designs a dynamic quality that rivals more typical multicolored designs. Festive red nail art designs by nail artists: Susan Wood, Kate Wilkinson, Stephanie Costantino, Ashley Crowe, Angela Solis, Tanya Ross.