Christmas Crafts, Flights of fancy. Use our pattern to create a flock of birds to decorate a tree. Cut out book pages and patterned paper pieces for the body and tail; adhere with glue and attach a piece of twine with another dab of glue for hanging.
Christmas Crafts ideas, Flights of fancy Bird Ornaments.
Materials
 Bird Pattern
Solid-Color Cardstock
Patterned Cardstock
Old paperback book
Glue stick
String
 Directions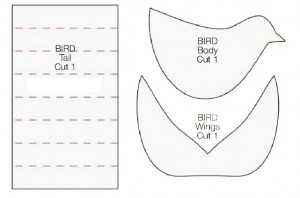 Cut out bird pattern. With a pencil, trace bird shape onto solid cardstock and wings onto patterned cardstock and cut out. Remove pages from old paperback. Trace bird and wing shapes onto page and cut out. Glue paperback shapes to matching cardstock shapes; let dry. Trim edges if necessary. Accordion-fold a paperback page, then fold in half to create the bird tail. Glue in place and let dry. Fold wings in half, cut a small slit in the center of the bird, and slide the wings into the slit. Glue into place. Make hanging loop with string and glue to the inside of the wings.