Chocolate Cookies Recipe is the ultimate indulgence. And if you are a chocolate cookie lover then you will be willing to get more chocolate recipes and test the different chocolate cookie flavors.Read on to find out how to make the perfect chocolate cookie recipe. Your friends will be so impressed of you that they will be asking you for the secret recipe. Enjoy these truffle cookies at your next holiday celebration.
Chocolate Mint Truffle Cookies Recipe | makes 3 dozen cookies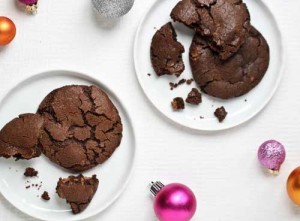 Ingredients:-
1 cup unsalted butter, at room temperature
1 cup granulated sugar
1 cup light brown sugar
2 large eggs
1 teaspoon vanilla extract
2 ½ cups all-purpose flour
1 teaspoon baking soda
¼ teaspoon salt
3/4 cup dutch processed cocoa
1 ½ cups chopped chocolate mint truffles
Preparation:-
1. Preheat oven to 375° F. Line a baking sheet with parchment paper or silicone baking mat. Set aside.
2. With a mixer, cream butter and sugars together until smooth. Add in eggs, one at a time. Next, add in vanilla extract. Mix until blended.
3. In a medium bowl, sift flour, baking soda, salt, and cocoa. Gradually add flour mixture to butter mixture and mix until flour disappears. Stir in mint truffles.
4. Drop cookie dough by rounded tablespoons onto prepared baking sheet, about 2 inches apart. Bake cookies for 8-10 minutes, or until the cookies start to crack slightly. Don't over bake. Remove from oven and let sit on baking sheet for 2-3 minutes. The cookies will set up as they cool. Move to a wire cooling rack and cool completely.