Here is a quick look at Chanel's spring 2012 makeup collection. Professinal makeup artist Peter Philips, Creative Director of Chanel Makeup, infused glowing, sunlit colour into the Spring 2012 Makeup Collection, HARMONIE DE PRINTEMPS. Subtle gradations of rose, coral and peach sculpt the face, giving it a soft radiance, while rich garnets and vivid pinks dress the lips.The collection includes two limited-edition items the blusher and the pressed powder as well as new shade /variation of Les 4 Ombres, Ombre Essentielle, Stylo Yeux Waterproof, Rouge Coco, Rouge Coco Shine, Lèvres Scintillantes, Le Crayon Lèvres, and Le Vernis. There will also be a new lip balm in the same packaging as that of Rouge Coco Shine. It is a collection full of soft, warm-toned, and wearable colors.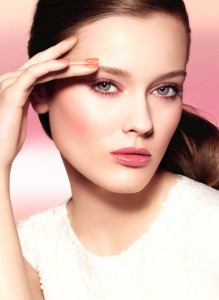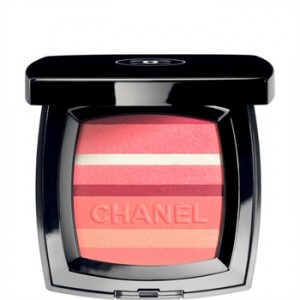 Blush Horizon de Chanel / Glowing Blush Harmony, In one elegant compact, five pink and peach tones mimic the luminous hues of sunset. This unique powder blush lends itself to multiple effects: blended together, the harmony is ideal for sculpting and accentuating the natural contours of the face. Using just the pink shades creates a fresh, youthful flush, while on their own, the peach tones produce a warm, sun-bronzed glow.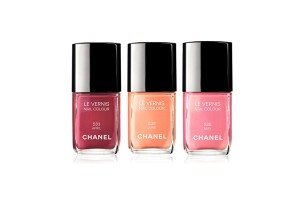 Chanel Spring 2012 Nail Polish
: In anticipation of the Spring season Chanel has released an update about their 2012 nail polish colours. Mixed by Peter Phillips, the house's legendary Creative Director of Makeup, these shades of red, peach and pink are sure to be cult status items. 
New Chanel nail polishes
called
April
,
May
, and
June
. Pictures of these shades have been circling the beauty community for quite a while with lots of excitement for all three. 
June
is a creamy soft peach with no shimmers. This is a bit sheer compared to the other 2 and it requires 3 coats for full opacity. 
May
is a bright pink that leans cool but not so cool. 
April
is a unique shade a creamy beet red.
Poudre Universelle Compact / Natural Finish Pressed Powder, Les 4 Ombres / Quadra Eyeshadow with eyeshadow brush set., Rouge Coco Baume / Hydrating Conditioning Lip Balm, Rouge Double Intensite / Ultra Wear Lip Colour, Ombre Essentielle / Soft Touch Eyeshadow. Chanel's Spring Collection is now trickling into stores such as Macy's, Neiman Marcus, Nordstroms, Bloomingdales, etc. The collection is also available for purchase on Chanel's website. Chanel's make-up Spring Collection 2012 An enchanting makeup collection inspired by springtime skies.