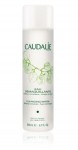 Caudalie CLEANSING WATER, £14.50
This cleansing water left my skin refreshed and perfectly clean. It removes makeup, is gentle enough to use on sensitive skin and around the eyes and didn't dry out my skin.
Caudalie GENTLE BUFFING cREAM, £18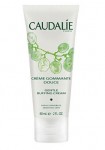 This luxurious scrub eliminates imperfections, dead cells, and excess sebum, as well as stimulating cellular renewal. It was a lovely creamy consistancy, not at all harsh and left my skin smooth and cleaner looking.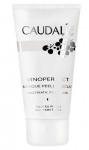 Caudalie ENZYMATIc PEEL MASK, £29
Loved this mask! It's brilliant for in the morning or before a night out as in just 10
minutes, my skin was more radiant and fresh looking.
Used it twice a week as part of a beauty regime with the gentle buffing cream, a perfect treat for tired looking skin!
Caudalie BEAUTY ELIXIR, £32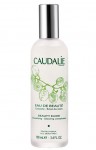 Inspired by the "elixir of youth" used by Queen Isabelle of Hungary, this treatment smoothes features, tightens pores, and gives the complexion a burst of radiance. I couldn't get enough of this! It's refreshing so it's perfect for spritzing during the day to awaken you and make you feel fresh before going, brilliant before using mineral makeup as it provided a perfect base.

Caudalie DAY PERFEcTING FLUId SPF 15, £38
As effective as a foundation to perfect the skin but with the invisible look and corrective effect, this day fluid provides anti-dark spot action and 100% unrivalled radiance. It left my skin so soft and even looking and has a gorgeously creamy but light texture, didn't leave my skin feeling clogged or oily like some fluids.
Caudalie CELL RENEwAL NIGHT CREAM, £38Upon waking up, the skin texture is refined, refreshed, rested and brightened.This product acts in depth on your skin over night as it is renewed and detoxified.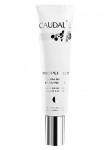 This cream melted into my skin and left it smooth and moisturised without oilyness. My skin looked and felt fresh in the morning.
Caudalie CRUSHEd cABERNET ScRUB, £21.50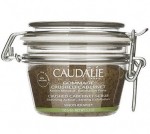 ANd  Caudalie VINE BOdY BUTTER, £19
absolutely loved the Crushed Cabernet Scrubt! It even managed to get rid of the
Keratosis Pilaris on my upper arms, I have tried various products and this is the first time
one has left my skin smooth and soft. It smells divine and has a beautifuly thick grainy texture that just oozes goodness.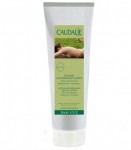 It contains 6 draining and cellulite-fighting organic essential oils perfect for tightening your skin.
Perfect alongside the Crushed Cabernet Scrub, this so soft and creamy butter left my skin smelling and feeling gorgeous, just like I stepped out of a spa! Rich in natural ultra-nourishing butters, grape-seeds and shea butter, this balm deeply repairs your dry skin. For more information and to view  Caudalie.