2012 sees a few changes in bridal fashion seen. Many styles will have a romantic Victorian flair. Think corsets, soft layers,ruffles, lace, full skirts and high collars. You only have to look to Vera Wang's 2012 collection to see such wistful nostalgia. Not just in the designs but also in the shades. Colours are dusty and come from a by-gone era – light aqua, gold and taupe, coupled with accents of grey, chestnut and beige.
Another big trend for next season is the transparent train. Top designers such as Marchesa and Anne Bowen have been showcasing their take on the train trend providing a style for every type of bride – glamour to grecian. This trend involves a close fi tting wedding dress with a transparent chiffon or organza train added on top or just to the back. The resulting ethereal feel is nothing short of magical.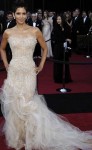 Finally, and probably thanks to The Royal Wedding, more and more brides are choosing to wear two gowns, a longer, more formal one for the ceremony and a fun, short one for the reception. Prior to this year, if you'd fallen in love with two dresses, you had the painful and daunting task of eliminating one…now you can have both!