The Healthy Back Bag's unique teardrop shape contours to the natural curve of the spine making a heavy load feel lighter. Developed with a doctor and a chiropractor it reduces stress on the back, neck and shoulders and encourages good posture.
Glamourous and chic with retro overtones, the new 'Boho' Healthy Back Bag is made of a durable synthetic leather material that is both soft and water resistant. The range features curved outer pockets and a fun, colourful shoulder strap and pocket detailing styled on a vintage 1960s guitar strap! Funky and functional, this new addition to the Healthy Back Bag's line-up will appeal to fashion conscious consumers of all ages. Colors include Teal, Grey, Purple and Black.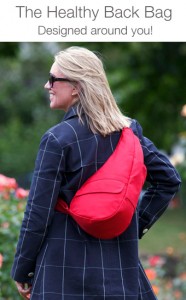 Worn either on the shoulder or cross-body, weight is distributed asymmetrically rather than pulling from one point, keeping the stress off your back. The bag fastens via a double zipper which is always against your back for security and the separate compartments ensure stress-free rummaging. New Boho healthy back bags collection.