Baby Hipoglos 2012
The ointment Hipoglós been in Brazil for 70 years. Its unique formula and consistency create a unique layer that protects the delicate skin of the baby's diaper rash. Hipoglós-confidence is passed on from generation to generation, so he is one of the more traditional medicines and a dear country known to the Brazilian moms!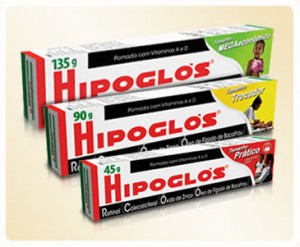 Indication
To protect baby's delicate skin from diaper rash. Its unique formula with vitamins A (retinol) and D (Cholecalciferol), incorporated in penetrating agents, emollients and moisturizers form a protective layer against substances in the feces and urine that cause rashes.
Attention
Follow the correct mode to use. If symptoms persist, seek medical advice. In case of adverse reaction, discontinue use immediately. External use. Store at room temperature (30 º C). Avoid hot spots. Avoid freezing.
Formula
Each gram contains:
Retinol (vitamin A) – 5000 IU

Cholecalciferol (Vitamin D) – 900 IU
Zinc Oxide – 150 mg
Excipients qs – 1 g
Excipients: Oil Hipoglós – vehicle for vitamins (cod liver oil and butylated hydroxyanisole, anhydrous lanolin, talc, purified water, vanillin, essence of lavender, EDTA disodium, mineral oil, petrolatum, polyethylene, butilenoglicol, glydant Plus (DMDM hydantoin and iodine-propinilbutilcarbamato). Source : Hipoglós.
Subscribe

to Stylish Trendy