Christmas season gets closer, And Now is a good time for putting a Holiday plan, decoration ideas, Christmas gift ideas, and it is a good time to looking for infant Christmas outfits immediately, because newborns don't stay newborns forever because he will grow and become a man or woman, so you should choose it very carefully, and take a special outfit for baby's Christmas photo and will make memories .. Your baby deserve to celebrate the Christmas party with a perfect and cute Christmas dress. It's your baby's first Christmas, so you looking for a baby dress to wear in this festive occasion, you need to buy for your baby not only a dress but you can buy a full Christmas outfit for baby in a Christmas theme fabric, such as, a dress, or matching a skirt and shirt, or a Christmas sweater and short, with some Christmas accessories like, bonnet, hairpins, head pieces., and for a beautiful touch there are footie. There are many ways you can dress your baby in Christmas with your style you like it. There are many options for you to choose the most perfect Christmas baby outfits in his first Christmas.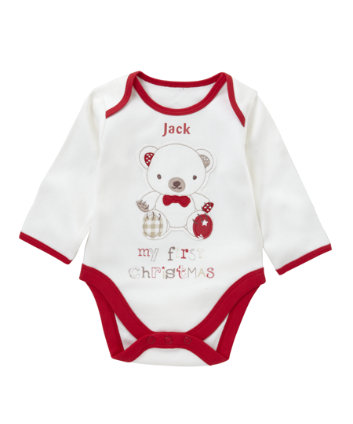 There are many parents love dresses to dress their babies in Christmas party , not only red dress, sweaters or Santa Claus clothing to express the Christmas festive look, but you can choose Christmas dresses for baby in many colors such as white, green, blue, rose, pink, really it's new and different, and you will like it sure ..
Here we suggest for you a new selection of baby Christmas outfits, and cute Christmas costumes for baby, I like it so mush it's so funny.. And also you find some simple Christmas dresses for baby girls by baby beau and belle.
Rosie Dress, made of rich red silk dupioni with white organza roses., flower headband, Rosie flower bloomer , Olive dress and Madison dress from Baby Beau and Belle.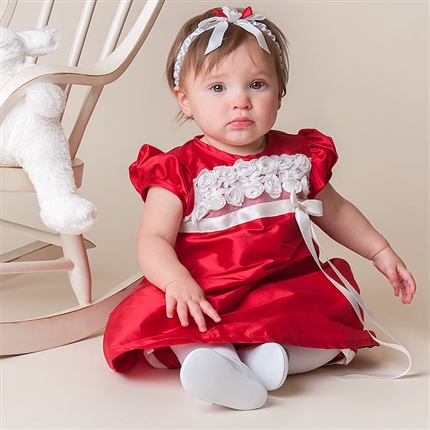 And also personalized My first Christmas body suit from the famous baby shop Mothercare.
And some cute and perfect baby Christmas costumes for your baby Christmas photo, It's a great idea.
Santa Bunting Infant Christmas Costume, A cute baby costume,it really makes funny photo for holiday cards.with Santa hat.
Baby Santa Infant Costume , cute Baby Santa baby Christmas costume.
Snowman Baby Costume, It's Perfect for all holiday photos or visiting the family.
Choose your perfect dress for your baby and make this Christmas very special  for you and for all your family specially your newborn in his first Christmas , I wish for you Merry Christmas.